OCTOBER 2017
* I am in the Czech Republic for three weeks on a residency at Milkwood where I am carrying out research and making photographs for a book project.
SEPTEMBER 2017
* The infinity of lists...
AUGUST 2017
* Excited and honored to be included in Odette England's "Winter Garden Photograph Project," which is due to unveil itself in 2020 for the 40th anniversary of Camera Lucida. More details and news about the project can be seen on the Winter Garden Photograph website
JULY 2017
JUNE 2017
* Recharging, refilling...
MAY 2017
* More edits....chugging along...
APRIL 2017
* Suzanne Revy wrote a review of Intimate View, which is on display at at the Garner Center at the New England School of Photography until April 21. Her review includes a mention of Haircut in the a.m.:
"Allison Barnes' 8"x10" contact print Haircut in the am, which shares a sensibility with Walker Evans, offer glimpses into the lives of others..."
The full article can be read on Elin Spring's photography blog, "What Will You Remember"

_____

* A selection of nudes from The Dailys are featured on the German publication, ART das Kunstmagazin for their series on the contemporary nude. A charming translation of the interview can be read >here<

MARCH 2017

* Haircut in the a.m. will be on display at the New England School of Photography as part of the exhibition Intimate View, curate by David Hilliard.

WHERE:
The Garner Center
247 Moody Street,
Waltham, MA 02453

WHEN:
March 28 - April 21
OPENING: March 30, 5:30 - 7 pm

_____

* Visiting some very special spaces to make images.
* Read your books, and read our books. #greatnothernlabs
FEBRUARY 2017
* Thanks to Women In Photography for featuring my image, Rings of Saturn, 2013 from Neither For Me Honey Nor the Honey Bee. Four years later and I am still deeply immersed in Sebald's work, which has coincidentally intertwined into my own work and has led me to meet many wonderful people along the way. Thank you, Sebald.
* Great Northern Labs has been hard at work on their latest project, which we have been keeping a pretty low profile on. This is mainly due to a large amount of research which has led me down a serendipitous path, one that has kept me quietly and thoroughly focused for two years now. But work does not stop even if the GNL team is on vacation in the Florida Keys. So we'll be enjoying some Sebald in paradise with a side of mojitos for the next week.
JANUARY 2017
* HAPPY NEW YEAR!! What does Great Northern Labs have in store for the year of the Rooster? We're not quite ready to reveal whats behind the curtain, but maybe Laura Palmer knows. Feel free to drop into the Lab this winter while we toil away at our research. For all you star gazers, the Rooster is the sign of dawn and awakening. According to the wise ones, success can only be achieved at the price of hard work and patience. GNL sends out much love to all of our friends and family - may you all achieve something wonderful and beautiful this year.
DECEMBER 2016
* Returning home is sometimes the best inspiration, especially when the Milky Way is so clear above these icy farms. Happy holidays from us at Great Northern Labs!.
NOVEMBER 2016
* The stars continue to align for me, this time at Bohemian National Cemetery in Chicago. Many thanks to the photo gods and Czech angels who are guiding me.
OCTOBER 2016
* I encourage all students and listeners when I lecture that disciplinary allies are a wonderful thing to have within an art practice. This also may include side jobs or the main job that you have which financially supports your art. 6-8 months out of the year I work as a horticulturalist maintaining native flowering perennial plants in Illinois. This setting gives me the time and space away from my work to reflect on the state of things in my studio. Weeding leads to great ideas.
SEPTEMBER 2016
* Many thanks to Russell Joslin, editor of Shots Magazine, for the interview and feature of Honey Bee and The Dailys for the Still Life issue #133. Order your copy on the Shots Magazine website
AUGUST 2016
* It has been four years since The Dailys began in July 2012. Here, an image titled, August 26, 2012; Eryngium maritimum. This image is particularly interesting to me now since I work as a horticulturalist in Chicago growing and maintaining native perennial species not unlike the thistle pictured here - a drawing on a postcard that I bought from a conservatory in Amsterdam:
JULY 2016
* Here at Great Northern Labs we anticipated our next publication to be out by this summer, but due to some cosmic discoveries in research, we are postponing the release of the book until we have sorted through new discoveries. Excitement grows!
JUNE 2016
* Selections from Autobiogeography, Neither For Me Honey Nor the Honey Bee, and The Dailys are up on Ballad of Magazine, with additional words by Tessa Bolsover.
"Barnes refers to her work as a collection of "souvenirs of a life lived". The contact prints are decidedly both images and artifacts, drawing attention to the physical limitations of photography as well as the slow, meticulous process, which in turn becomes a form of meditation and even self-discovery."
MAY 2016
* Neither For Me Honey Nor the Honey Bee: Photographs & Essays is continuing its tour across the pond, this time on display as part of the On Landscape Project, which is currently on its third run. A selection of books that exist within the project will be exhibited at Lower Hewood Farm in conjunction with site-specific installations, artist-talks and video screenings.
On Landscape Project will be in residence throughout the exhibition in order to engage with visitors, conduct research, develop ideas for new work and lead free weekly events in collaboration with Lower Hewood Farm.
When: May 28 - June 12, 2016
Where:
Hewood
Chard
Dorset TA20 4NR
* An interview with Sierra Dickey of The Hopper Magazine is currently up online. Sierra and I exchanged emails over several weeks, during which time we discussed ideas surrounding Place and my series, Neither For Me Honey Nor the Honey Bee.
APRIL 2016
* Two pieces, which make up a diptych, are on display at the Midwest Center For Photography, in Kansas for the exhibition, 2016 Midwest Photo Emerge. If you are in Wichita, stop by to see "View of Camp From Trail at 9,698 ft." and "Detail of Camp Boundary" in person.
When: March 15 - April 8, 2016
Where: Midwest Center For Photography | 111 Ellis, Wichita, Kansas 67211
MARCH 2016
* Great Northern Labs is still working on the production of their next book, which is only getting increasingly more awesome as we discover more information surrounding the project. Stay tuned for more information, but we plan on taking our sweet time with this one.
FEBRUARY 2016
* Great Northern Labs will be selling some goods, such as books and limited edition postcards at the LA Art Book Fair. Find us at Booth #60, hosted by the Chicago Print Department.
Where: The Geffen Contemporary at MOCA
When:February 12 – February 14, 2016 | Preview: Thursday, February 11, 2016, 6–9 pm
JANUARY 2016
* Neither For Me Honey Nor the Honey Bee is on display at The Vermont Center For Photography. The opening kicks off their exhibition season as well as the New Year. Twenty-Four pieces will be on display, including some new prints within a new collection of images.
Where: 49 Flat Street, Brattleboro, VT
When: January 1st - 31st | opening reception: January 1st, 5:30-8:30
DECEMBER 2015
* Neither For Me Honey Nor the Honey Bee: Photographs & Essays is now a part of the Franklin Furnace Archive, in Brooklyn, NY.
"Franklin Furnace's mission is to present, preserve, interpret, proselytize and advocate on behalf of avant-garde art, especially forms that may be vulnerable due to institutional neglect, their ephemeral nature, or politically unpopular content. Franklin Furnace is dedicated to serving artists by providing both physical and virtual venues for the presentation of time-based visual art, including but not limited to artists' books and periodicals, installation art, performance art, and unforeseen contemporary avant-garde artforms; and to undertake other activities related to these purposes. Franklin Furnace is committed to serving emerging artists; to assuming an aggressive pedagogical stance with regard to the value of avant-garde art to life; and to fostering artists' zeal to broadcast ideas."
NOVEMBER 2015
* Thrilled to receive the latest book of Magenta's Flash Forward Emerging Photographers from the UK, US, and Canada, and honored to be a part of it.

A spread of "Wishbone" (2012) and "Haircut in the a.m." (2014) in Flash Forward Emerging Photographers 2015 | Thank you @magentafoundation !
OCTOBER 2015
* A review of Iterations, by Michael Weinstein, is up on Newcity Art. The show is currently up through Halloween.
SEPTEMBER 2015
* Excerpts from The Dailys are on exhibit in Iterations at Alibi Fine Art in Chicago.
This exhibition features self-portraits of three female artists, including myself, Rachel Hulin and Asia Kepka.
AUGUST 2015
* Photobook Exhibition
By The Books: A Juried Exhibition
The Vermont Center For Photography exhibits a selection of photobooks, juried by 21st Editions.
Where: 49 Flat Street, Brattleboro, VT
When: August 7-30
* Great Northern Labs has moved! While we are enjoying the Chicago summer season, we are also undergoing some improvements, which includes a location that is much more spacious and efficient. So stay tuned for those far out limited editions.

* 44 publications were included in this year's On Landscape Project, all of which can be viewed through their online library. In addition, the exhibition of On Landscape #2 will on view as part of the Castlenuovo Fotografia Festival in Italy. Details soon.
Images ©Niccolò Fano
a. Neither For Me Honey Nor the Honey Bee: Photographs & Essays by Allison Barnes
b. Pages 46-47 | The Blue of Distance in Fog
Image ©Roberto Apa
On Landscape #2 at the Materia Gallery in Rome, Italy
JULY 2015
* The Honey Bee book is being exhibited in "The PhotoBook Exhibition" as part of the Athens Photo Fesival. 370 books will be on display at the Benaki Museum through July, at which time a majority of the books, including my own, will be added to the collection at the Hellenic Centre For Photography in Athens, Greece.
JUNE 2015
Neither For Me Honey Nor the Honey Bee
when: June 27 - August 1, 2015
where: Freedom Gallery | 29 Race Street, Frenchtown, NJ
*A lovely interpretive piece on Honey Bee titled "Close Seeing" is in Yet Magazine. Words by Darren Campion
MAY 2015
* CUS Photo recently did an interview with me where they asked me about Honey Bee, my process, what I had for breakfast and more. Read the full article on their website. I will also be guest posting from their Instagram account over the next few days, so be sure to tune in.
* Portraits from The Swap are highlighted on Feature Shoot, including the images that Richard Williamson and I made of each other.
* Incredibly honored to be a part of Flash Forward 2015 at the Magenta Foundation. Check out this list of incredible artists.
* Great Northern Labs has a busy summer ahead. We'll be kicking it off at the end of June with a limited edition exhibition catalog.




* This month I had the leisure to exhibit alongside fellow Chicago-based artist, Autumn Elizabeth Clark, in the series Axis & Allies. This was a great opportunity for me to experiment with a new installation, where I displayed an arrangement of various works in different mediums.

Co-Founders Sara Rouse and Alex Calhoun say:
"Axis and Allies is an exhibition and conversation series seeking to pair MFA-holding or seeking artists from different institutions in an effort to expand contextual circles and encourage critical discourse between geographically and/or educationally disparate practices through conversation and exhibition. Such an exhibition series allows for the creation of productive relationships through both harmonious and incongruent associations."

Images from Axis & Allies:

* I look forward to seeing a lot of black and white work as a juror for the Monochrome Awards. Entries due November 2015.
APRIL 2015
* Neither For Me Honey Nor the Honey Bee: Photographs & Essays has been shortlisted for the Athens Photo Festival Photobook Show. In addition, this publication is now part of the collection at the Hellenic Centre For Photography.
"The 2015 theme, under the title "Reframe Memory", explores the relationship between past and present, both experimental and mainstream, bringing together a wide range of international artistic positions."

* Neither For Me Honey Nor the Honey Bee: Photographs & Essays Is included in the photobook exhibition, On Landscape #2, which aims to expand on research initiated by its first exhibition (*On Landscape #1), engaging in further reflection on representations of landscape in relation to a set of preconceived ideas, traditions and pictorial conventions.
On Landscape #2
When: April 17 - May 16, 2015
Where: Materia Gallery, Rome, Italy

MARCH 2015
* Aint-Bad Magazine released their latest issue, From Here On, which is an anthology of all the featured artists up 'til now. I have an image included amongst the many images that are by close friends and colleagues. The issue is beautiful, so be sure to order your copy now.
Pictured below: Archive; landscape, 2014, from the series, Neither For Me Honey Nor the Honey Bee

* Great Northern Labs is working on some exciting things! May and June will be busy months as we prepare for two exhibitions, a limited edition catalog, and a limited edition print set.
*I will be giving a lecture entitled, Personal Geography: Our Relationships with Place in Contemporary Photography. I will be discussing my own work, as well as the work of other women photographers who depict the landscape as a place of discovery as it is attached to personal history and biography. This talk is part of a series of discussions called "Women in the Arts" to commemorate Women's History Month.
*I will be taking over the FotoFilmic Instagram account from March 15-21. Follow along as I close out the Winter season and welcome Spring at the Vernal Equinox. #nearingequinox
@fotofilmic | March 15-21
@allisonbones
* The book, Neither For Me Honey Nor the Honey Bee: Photographs & Essays, is included in the exhibition On Landscape #2, to be on display at the Materia Gallery in Rome, Italy
"A central element of the On Landscape Project consists of a library of self-published, hand-made or short run artists books relating to representations of landscape."
On Landscape #2
April 17 - May 16
Materia Gallery
Via Tiburtina 149 00185 Roma
FEBRUARY 2015
* Having a piece of writing published is always an honor, but it is even more gratifying when you are told that a piece of your writing has been cited in someone else's essay; to know that your words are valued and considered as something relevant.
My piece The Moon and Precious Metals has been cited in Holly Goldstein's essay, A Garden of Contradictions, which was recently published in the "Exposure" journal, put out by The Society For Photographic Education
* Fellow photographer / sculptor / installation / conceptual artist, Richard Williamson, teamed up with me to participate in The Swap - two photographers each take a portrait of the other. We are so thrilled to be a part of this on-going project and archive.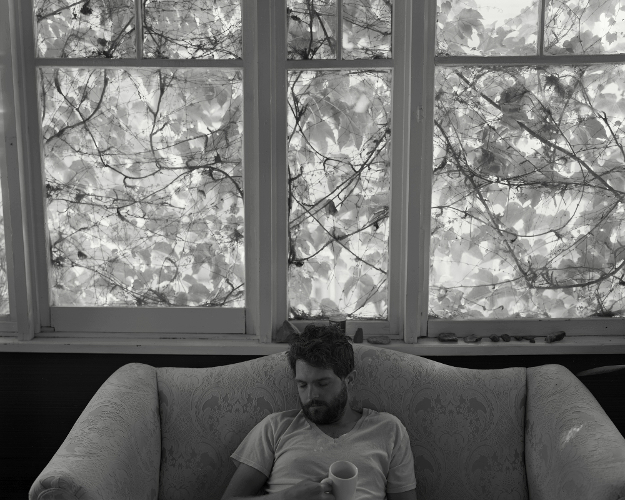 Rick on Our Anniversary
Allison Being Tina
* After receiving a package from Great Northern Labs, Selektor Magazine posted this lovely display of the print, postcard, and the sleeve they came in. All supporters of GNL from 2014 received this same package, but big thanks to Selektor for the beautiful capture.
Bottom Left: Chilean Monkey Puzzle; illusion, 5x7" gelatin silver print
Bottom Right: Zillertal Alps, 3.25x5.5" postcard
JANUARY 2015
* Installation of Zillertal Alps by Great Northern Labs in Richard Williamson's Good Times Waiting Room at The Honey Hole in Chicago. Additional works in this image include, Crotch Shot by David Lloyd, Paris in the Spring by David Lloyd, Wall by Richard Williamson, and The Good Times Wrestling Ring by Richard Williamson
* Great Northern Labs has been busy prepping for Richard Williamson's Good Times Waiting Room. Part of our installation includes a 7 foot x 10 foot mural photograph. Those who bought a copy of Neither For Me Honey Nor the Honey Bee each received a postcard within the book, and it just may hint to what will be in the exhibition...
* Head on over to Nomadic Bookshelf to pick up one of the last remaining copies of Neither For Me Honey Nor the Honey Bee: Photographs & Essays
Nomadic Bookshelf if a traveling book store based out of Cleveland, Ohio, founded by Catie Moore. She specializes in independently made and produced photography books.
* Neither For Me Honey Nor the Honey Bee is featured online at the Vermont Center For Photography.
* Everyone who ordered a copy of Neither For Me Honey Nor the Honey Bee will be receiving a gelatin silver postcard in the mail! Thank you for all of your support in 2014. May the year ahead be just as illuminated.
DECEMBER 2014
* Where will you be on Friday, January 23, 2015? Most likely at The Honey Hole, where Chicago artist, Richard Williamson, will debut his Good Times Waiting Room, featuring work by yours truly (as Great Northern Labs), paintings by Dave Lloyd, and music by London based DJ Phoenix. Mark your calendars, not to be missed.
WHEN: JANUARY 23, 2015
WHERE: THE HONEY HOLE, 1656 S. THROOP STREET, CHICAGO, ILLINOIS
* I have some work in Issue 3 of S T I L L Magazine - a magazine based out of Germany which features new photography and writing.
* The last copies of Neither For Me Honey Nor the Honey Bee are only moments away from being yours. Grab one before the edition is forever sold out.
NOVEMBER 2014
* My image August 4, 2012; bather from the series, "The Dailys," makes Selektor Magazine's list of Top 5 Photographs of the week
* So many thanks to all who bought a copy of the book and have made it a success already. Great Northern Labs is thrilled at the positive feedback, which only makes us more excited for the new projects that are coming in 2015. Thank you!
* LIMITED EDITION! ONLY FIFTY COPIES! GET 'EM WHILE THEY'RE HOT, GET 'EM WHILE THEY LAST! INCLUDES A PRINT AND A LITTLE HINT / EXTRA ON THE FIRST PAGE REGARDING THINGS TO COME.
* I can't believe it is finally here! The first artist proof of Neither For Me Honey Nor the Honey Bee: Photographs & Essays is in my hands! and it will be available to you in only a few short days. Check back on November 1st and get your own - only 50 limited edition copies will be available, and each one includes a special limited edition print in its own custom sleeve. All limited! All signed! All good things!
OCTOBER 2014
* Friends, what can I say, except that the ladies over at A Women's Thing are some the most generous and inspiring people in publishing. They were so kind and supportive to ask me to contribute images for their first issue, but wait, it did not stop there, for I just received this package which included among copies of the issue, a bouquet of the sweetest smelling lavender there ever was. Three cheers for Women, Love, and Friendship. (pictured: "Apples and Glass," 2013, from Neither For Me Honey Nor the Honey Bee
* The future holds some beautiful things, stay tuned. (Image courtesy of NASA)
* I have been busy this fall shipping prints out to organizations and projects that I want to support and see flourish. In September I donated a set of prints to A Women's Thing in NYC, and this month I am thrilled to donate work, for the third year in a row, to The Ossabaw Foundation.
As one of the Golden Isles off the coast of Georgia (USA), Ossabaw Island is only to be used for natural, scientific and cultural study, research and education, and environmentally sound preservation, conservation and management of the Island's ecosystem. I first visited the island in 2012 when I donated a piece to be auctioned off. The main house is only open to the public one day out of the year during the annual Pig Roast.
This year I donated "Audubon Mantle" from Neither For Me Honey Nor the Honey Bee, which was taken inside the main house on my first visit in 2012. The image, "Wash Basin", of the same series, was also taken on that day.
* The traveling exhibition of FotoFilmic '14 opens in Vancouver. If you find yourself in the area, stop by to see the thirty selected photographers and images. For those who will be in Los Angeles come January, you can view the work at DNJ Gallery after the New Year.
VANCOUVER:
OCTOBER 3-19, 2014
BLACK GALLERY PROJECT,
602 E HASTINGS STREET
VANCOUVER, BC V6A 1R1
CANADA
* My Chicago representation, Alibi Fine Art, will be open for the Ravenswood ArtWalk. Stop in to meet the lovely director, Lisa Janes, and see a beautiful exhibition by fellow Chicago photographer, S. Gayle Stevens. Purchase one of her wet plate bees and 10% of all proceeds go to Bike A Bee, an urban farming initiative that brings awareness to the importance of beekeeping and provides hives to community gardens to serve as educational tools and public examples of the magic of pollinators.
When: October 4th and 5th, 2014 | Sat, 11am - 7pm / Sun, 11am - 6pm
Where: 4426 N Ravenswood Ave, Chicago, IL
SEPTEMBER 2014
* Final tweaks are being made to the limited edition that is due out this fall. Stay tuned! Only 50 numbered copies will be available for purchase.
* Be sure to check out the amazing new publication, A Women's Thing, put out by twelve fantastic NYC ladies. I was so honored when they asked me if they could use some of my images to promote their magazine, which is "dedicated to strengthening the conversation about women in society, culture, business and tech."
They are offering some amazing gifts to sponsors, including a set of three limited edition artist proofs from my series, Neither For Me Honey Nor the Honey Bee (along with some other amazing gifts) at the levels of $1000 to $5000. Don't have that kind of $ to spare? Think about enjoying a copy of the first issue or all four at the $25 to $50 level. There will also be an AWT shop with books and limited edition prints as a way to support independent artists and writers.
* As I welcome Fall here in Chicago, I look back on Summer with so much joy. Thank you to all who were a part of it. Much to come this season ahead.
AUGUST 2014
* The FotoFilmic '14 online exhibition is up! Stayed tuned to hear more news regarding the traveling exhibition, which opens in Vancouver this October.
* The online exhibition of the Print Center's 88th Annual International Competition is up. Visit their site to view the work of the ten finalists.
* Thrilled to be one of 30 final winners in FotoFilmic'14. All finalists will be exhibiting in a traveling exhibition that opens in Vancouver and Los Angeles. After the tour, 8 exhibitors (5 top winners + 3) will also have their print exhibited in New York in April 2015 at the NYC Lomography Gallery & Store. The 3 additional exhibitors will be announced in the Fall 2014.
Vancouver:
October 3-19, 2014
Black Gallery Project,
602 E Hastings Street
Los Angeles:
January 15-31, 2015
DNJ Gallery
Bergamot Station
2525 Michigan Avenue, Suite J1
JULY 2014
* My work is now searchable through Art Photo Index. API is a visual index of important art and documentary photographers, their images and their websites from throughout the world.
* The book version of Neither For Me Honey Nor the Honey Bee is currently in its final stages of edits, and I am thrilled to Have Jason Rigas on board as the editor. Jason is currently pursuing his PhD at Princeton University where he is studying Comparative Literature at the Seeger Center for Hellenic Studies.
* Impatiently waiting for A Women's Thing to launch. Sign up for their newsletter to stay informed.
* My gallery, Alibi Fine Art, will be exhibiting work from their artists at Art Santa Fe. This expo features galleries and museums from around the world, all of which will be showcasing cutting edge art installations from established and emerging artists.
When: July 10-13 // GALA OPENING and VERNISSAGE, July 10, 5-8 PM
Where: SANTA FE CONVENTION CENTER 201 W. Marcy, Santa Fe, NM
JUNE 2014
* Come say hello in Santa Fe at the Review Santa Fe Portfolio Walk.
When: Friday, June 27, 6-8 pm
Where: Farmers Market Pavilion, Free and open to the public
* Holly Goldstein, Ph.D has written a lovely essay on Autobiogeography, which can be read here.
HOLLY GOLDSTEIN IS A PROFESSOR OF ART HISTORY AT THE SAVANNAH COLLEGE OF ART AND DESIGN. SHE TEACHES COURSES IN THE HISTORY OF PHOTOGRAPHY AND MODERN AND CONTEMPORARY ART. HER RESEARCH FOCUSES ON LANDSCAPE PHOTOGRAPHY, CULTURAL GEOGRAPHY, AND THE VISUAL CULTURE OF THE GEORGIA LOWCOUNTRY. SHE RECEIVED HER AB FROM PRINCETON AND HER PH.D. FROM BOSTON UNIVERSITY.
* A short write-up on the psychology of Neither For Me Honey Nor the Honey Bee and its relationship to the 6th century poet, Sappho, is on Mutant Space.
* An excerpt from Autobiogeography makes it into Best of Eyes on the South, Vol. 2, in Oxford American Magazine.
* Papersafe Issue #02: Keepers of the Dark comes out this month, featuring Wishbone on the cover. Order your copy to also get a limited edition print of Wishbone or any of the other three prints being offered. Also included in the publication is an article by yours truly, titled, "Error and Sight."
Issue #02 Keepers of the Dark features the photographs of artists who work or have worked at a professional darkroom.
* Excerpts from Neither For Me Honey Nor the Honey Bee are included in the summer issue of Shots Magazine. I'm elated to be published with an image of Patti Smith any day.
* A small glimpse at what I was up to during my residency in Nebraska:
I had the pleasure of printing from the Higgins Glass Plate Negative Collection during my stay - tune in for a posting of those images, as well as an update regarding my love affair with a cobalt moon.
* Neither For Me Honey Nor the Honey Bee is among many other great projects on Phases. A clean and minimal design, Phases is online photography magazine focusing on contemporary photographers, curated by Jérome Montagne and Alexis Vasilikos.
* Many thanks to Aline Smithson for including me in the upcoming 20th Juried Exhibition at the Griffin Museum of Photography. Exhibition details to follow.
MAY 2014
* If you find yourself in the Lincoln, Nebraska area I'll be giving a talk about my work and residency at the Homestead National Monument. The lecture, titled "Picturing Place," will cover the themes and ideas that run through my works, including my notions of place, identity, and the act of photographing the contemporary landscape.
when: May 31, 2014 / 2:00 pm
where: 8523 W. Highway 4, Beatrice, NE 68310
* May 19th marks the start of a residency at Homestead National Monument of America. During my stay I will be making prints from the Higgins Glass Plate Negative Collection, as well as creating new works to interpret the park. Follow @allisonbones on Instagram to see highlights from the residency #homesteadartist
* Honored to have been invited to join the Lensculture family. So much to enjoy on this site.
* The French blog Selektor Magazine has featured images from the three series, Autobiogeography, The Dailys, and Neither For Me Honey Nor the Honey Bee. Included is a lovely write-up on the themes present throughout the works.
APRIL 2014
* Thank you to the National Park Service for selecting me as one of their Artist-in-Residence for the 2014 year. I'll be heading to Nebraska next month for a stint on the prairie, which means lots of Springsteen and lots of swooning over tall grass. See you soon, Nebraska.
* Neither For Me Honey Nor the Honey Bee is displayed online at the Detroit Center For Contemporary Photography in the New Directions collection. The feature can be seen here.
New Directions is an online collection of juried photographic portfolios that presents new and unique directions in contemporary photography.
MARCH 2014
* A big thank you to selection committee, Maarten Schilt, Alec Soth, and Amber Terranova, for selecting my work as an invitation to Review Santa Fe this June. I look forward to engaging with a community of creatives, making new friends, and soaking up the most beautiful city in the Land of Enchantment. Hope to see you there.
* If you are interested in reading my musings, artist write-ups, etc., please don't hesitate to contact me, or be patient and keep an eye out for the first of three books - a trilogy of images and text, due out this spring.
* A significant amount of images from Neither For Me Honey Nor the Honey Bee are included in the current issue of South By Southeast Magazine for their theme of the "The Farm."
Stunning images by Brett Schenning are also included in the issue. I recently wrote about his series, Inheritance, for my series here (once again) - a collection of articles about photographers who investigate the themes of landscape, place and memory. These articles may be read here.
FEBRUARY 2014
* A wonderful way to end this short month: Neither For Me Honey Nor the Honey Bee is featured on the Carte Blanche Gallery blog. Here's to bringing in March, spring will be with us soon.
* Shortlisted for FotoFilmic '14. Keep an eye out for daily features on each photographer selected. Competition winners for the traveling exhibition will be announced in June.
* All my articles written for Der Greif can now be viewed on this site under here (once again). If you are ever sipping coffee or partaking in other ambles, take a moment to read one or two.
* Autobiogeography is featured on Der Greif, along with a portrait of myself taken by tin type extraordinaire, Taylor James
Stay tuned with Der Greif's Guest Blog starting February 5 to read articles written and curated by yours truly, including the topics of W.G. Sebald, worrying, radicals, and the moon.
*Neither For Me Honey Nor the Honey Bee has been named a finalist in the Print Center's 88th Annual International Competition. The series will be featured on their site along with nine fellow finalists in June 2014.
JANUARY 2014
Happy New Year! 2014 holds some exciting things for my work, including a solo exhibition to kick off the new year. Stay tuned to learn more about my inclusion in The Detroit Center for Contemporary Photography's collection and much more. This month:
* Neither For Me Honey Nor the Honey Bee opens at Alibi Fine Art on January 11, 2014 with a reception from 5:30 - 8 pm
Alibi Fine Art
1966 W. Montrose
Chicago, IL 60613
DECEMBER 2013
* Three images from Honey Bee are included in F-Stop Magazine's black and white issue, along with many other extraordinary images. Come see my photographs in person at Alibi Fine Art next month for the opening of Neither For Me Honey Nor the Honey Bee.
* Stay tuned to Der Greif's blog after the New Year for a week's worth of curated posts by yours truly.
NOVEMBER 2013
* "Wishbone" from, Neither For Me Honey Nor the Honey Bee, is featured as the photo of the day on FotoVisura, November 22, 2013
FotoVisura is an international self-publishing community and resource for art & documentary photography.
* Neither For Me Honey Nor the Honey Bee is featured onLight Leaked
Light Leaked is run by photographer, Ashley Kauschinger. A new artist is featured each Monday with the aim to provide exposure for new and exciting photographers.
* Der Greif is a project for contemporary photography and literature. Based out of Augsburg, Germany, the magazine collaborates with artists and authors to exhibit works in print and online. Excerpts from Autobiogeography are included in Issue #7, the anniversary issue. Copies of the limited edition are available now. Blogposts by participating artists.
A release party will be held on November 23 at Galerie f5,6 in Munich, Germany. Angela Aux will play records from his collection
* Empty Stretch and Furthermore present the Petty Thieves photo projection at the Petworth Ciizen & Reading Room in D.C. on November 8.
Petty Thieves is an ongoing curation centered around collaboration and presenting photographs within new contexts. Over 200 photographers from around the world will be showcased within a curated projection series, including selections from Autobiogeography.
* Flash Forward 2013, by the Magenta Foundation is now available for order. I am thrilled to be included as an honorable mention from the U.S.
OCTOBER 2013
* Portfolio reviews are a great way to connect with other photographers and professionals, and this year's Filter Photo Festival brought the best of both worlds to the great city of Chicago. I am thrilled to have had the opportunity to sit down with Aline Smithson, the mastermind behind Lenscratch.
Take a peak at my feature of both Autobiogeography and Neither For Me Honey Nor the Honey Bee on Lenscratch here
SEPTEMBER 2013
* Stop by to say hello and see my prints at the Filter Festival Portfolio Walk. Amazing work by others is sure to be seen as well.
Date: Saturday September 28
Time: 6:00pm – 9:00pm
Cost: FREE
Location: Fine Arts Building | 410 South Michigan Avenue | 10th Floor
AUGUST 2013
* The 02 Gallery in Austin, TX is exhibiting works from the 2013 Ticka-Arts photographers. August 16-23, with an opening reception on August 23, 6-8 pm.
JULY 2013
* Excerpts from Autobiogeography are up at the Houston Center for Photography. Stop in to hear me speak about the work through the Center's interactive exhibition.
* Burned Cypress from the series Neither For Me Honey Nor the Honey Bee is on display in La Chaux-du-Milieu, France at the Grand-Cachot-de-Vent.
* Summer Snapshots is up at the Gutstein Gallery in Savannah, GA. Visit the exhibition to see my piece, September 11, 2012; emulation of my polish heritage from the series The Dailys.
JUNE 2013
* Keep an eye out for the publication of Magenta Flash Forward's emerging photographers of 2013, including an honourable mention by yours truly.
* Excerpts from The Dailys are on display at the Gutstein Gallery in Savannah, Georgia, including:
July 14, 2012; black rock mountain
August 1, 2012; still life
September 11, 2012; emulation of my polish heritage